Please note - this tutorial applies to VX Units: VX90, 230, 340
1. Turn the unit on by holding the power button for 3 seconds. Once turned on the Mode LED should be green.
If using a heart rate monitor, the Status LED should turn from flashing red/green twice per second, to once per second within 1-2 minutes, indicating that it is picking up a good heart rate signal.
Make sure you are in an unobstructed area outside and wait for the GPS LED to turn from red to green, indicating that the device has locked onto enough satellites to provide your accurate position. You can now put the unit into your vest and start the session.
Once the session is complete turn the unit off by holding the power button for 3 seconds, then plug it into your PC using a single USB cable.
2. Download the "G3Manager" from the following link: https://vxsport.zendesk.com/hc/article_attachments/360004091136/20200331_-_G3Manager.zip . Once downloaded, right click on the zipped folder and click "Extract All". You can now delete the zipped folder and will be left with just one folder called "20200331 - G3Manager."
3. Open up the "20200331 - G3 Manager" folder then open the file called "G3Manager.exe" Your unit should show up as a device and you will be able to see the serial number. Click the "Download" button then select the file location you would like to save the file to then click OK.
4. Your coach should have sent you a dropbox link requesting the file for today's session. For example it should look like this: https://www.dropbox.com/request/hX9J2gUMQtCrhELvW09b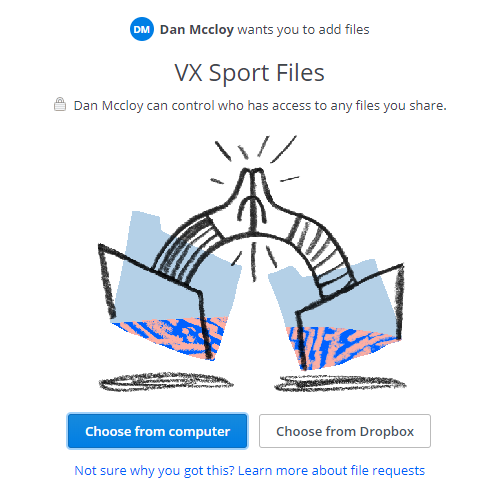 5. Follow the link and click the "Choose from Computer" button.
6. This will open up your file explorer. Find the directory that you saved the file to and select the session file. This will be named the same as your unit serial number, eg: 5405467 (the file type is a ".bin" file).
7. You can now clear the data off your unit ready for use in the next session: Open up the "G3Manager" again and click the "Erase" button, then confirm by clicking OK.
8. Your unit has now been cleared and is ready to use again.